Rough Country 68130 4in Suspension Lift Kit with N3 Shocks for 07-18 Jeep Wrangler Unlimited JK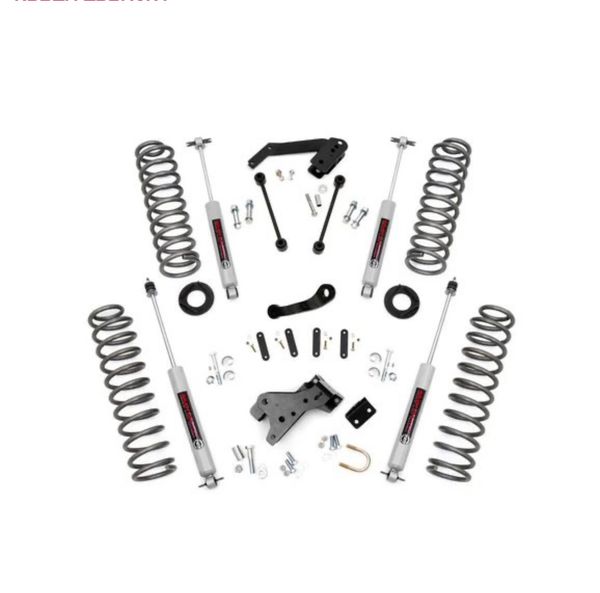 Rough Country 68130 4in Suspension Lift Kit with N3 Shocks for 07-18 Jeep Wrangler Unlimited JK
Conquer the trails in your four door Jeep Wrangler Unlimited JK with the Rough Country 4in Suspension Lift Kit. This easy to install lift kit is designed to fit 35x12.50 tires. Rough Country tunes their coil springs to the OEM spring rate, for a lift that rides like a factory Jeep. Rough Country includes either their N3 or Vertex remote reservoir shocks with this kit. The twin-tube nitrogen-charged N3 shocks provide smooth a smooth ride with 10-stage variable valving. For additional versatility, Vertex Remote Reservoir shocks are fully adjustable. They are equally at home on the highway and on the trail, and you can optimize compression at the twist of a knob. Rough County's V2 shocks feature a monotube design that separates the shock oil from high-pressure nitrogen. This reduces cavitation and fade, and makes for a high-performing off-road shock.

Shock Options: Select from Rough Country's N3 shocks, V2 Shocks, or their Vertex Remote Reservoir shocks. Shock relocation brackets allow you to run your factory shocks with this lift. N3 shocks provide smooth performance with nitrogen-charged 10-stage variable valving. Vertex shocks feature 8-stage adjustability, and a nitrogen-charged monotube design. The remote reservoir increases fluid capacity, and reduces fade by dissipating heat. The Rough Country V2 shocks feature an aluminum body with a high-pressure monotube construction. 
Run Larger Wheels and Tires: The Rough Country 4in Suspension Lift Kit allows you to fit 35x12.50 on your four door Jeep. You will also need between 4.5" and 4.75" of backspacing, so if you are using factory wheels, then you will need 1.5" wheel spacers. 
Wrangler Unlimited JK: The Rough Country 4in Suspension Lift Kit was designed for use with four door Jeeps. The coil springs were specifically tuned for the Unlimited JK, and this kit is not compatible with two door models. If your Jeep is a 2012 or newer with a 3.6L engine, then you will need exhaust spacers to avoid interference with the front driveshaft.