Rugged Ridge 11540.31 HD Full Width Front Bumper for 07-22 Jeep Wrangler JL, JK & Gladiator JT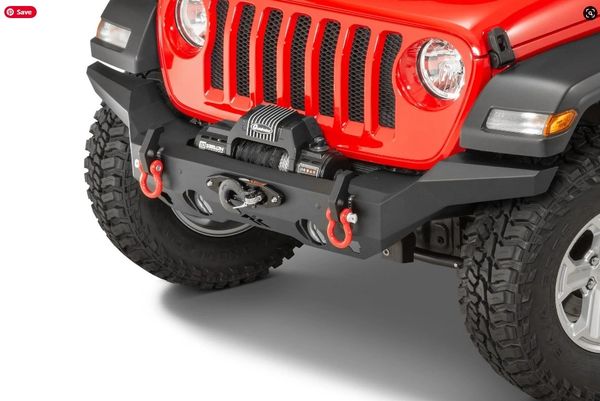 Rugged Ridge 11540.31 HD Full Width Front Bumper for 07-22 Jeep Wrangler JL, JK & Gladiator JT
Rugged Ridge
11540.31 
HD Full Width Front Bumper 
for 07-22 Jeep Wrangler JL, JK & Gladiator JT
That factory plastic bumper is hardly worthy of being on your Wrangler JK or JL so why not give your rig something that it deserves. That is where the HD Full Width Front Bumper steps in to give you a worthy off-road bumper for your Jeep. This bumper has everything you could want in an off-road bumper from full width coverage to a built in winch plate. It even accepts 3/4" & 7/8" d-rings along with integrated lifting points for your hi-lift jack to help you out of a sticky situation. Optional Over-Rider Bar is sold separately (11540.61). Winch opening is 25 1/4" x 7". Warn Zeon 10S has been verified to fit.
Design: A versatile off-road bumper that will perform better on the trails then the factory plastic one. Recessed winch plate allows for better air flow to your radiator & the oversized dual drilled tow hooks allow for either 3/4" or 7/8" d-rings.
Construction: Made from high quality steel for the best in protection and durability. Black powder-coated to prevent corrosion giving you a clean look for years to come.
Installation: This bumper is a simple bolt on installation that will not require drilling or modifications.
INSTALLATION NOTES
Installation Difficulty:
Level 2
Intermediate
Installation Time:
2-3 hours
WARRANTY
5 Year Limited Warranty.