SUPERCHIPS FLASHCAL+ Fits 2018-2022 3581-JL Jeep Wrangler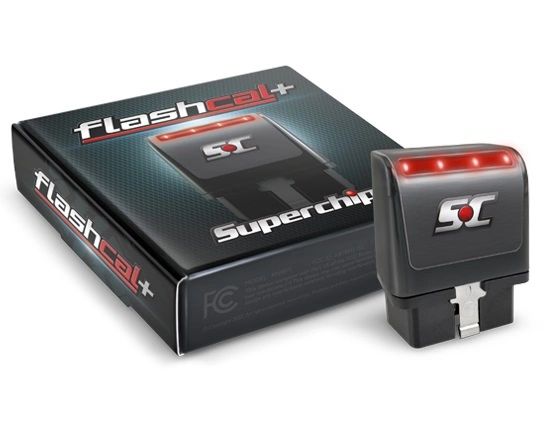 SUPERCHIPS FLASHCAL+ Fits 2018-2022 3581-JL Jeep Wrangler
SUPERCHIPS FLASHCAL+
Fits 2018-2022 Jeep Wrangler
So, where's the "plus" in Flashcal+? The combination of Flashcal+'s wireless dongle and app is every bit as powerful as the existing "F5" series Flashcal, but enhanced with the smooth interface of your smartphone's touchscreen, freedom from running cables with a Bluetooth connection, and excellent on-the-fly controls and monitoring. This means Flashcal+ ("Flashcal Plus") for Wrangler JL 3.6L and 2.0T is WIRELESS! Superchips is proud to announce that our newest generation of electronic calibrator is a powerful combination of smartphone app and Bluetooth dongle to tap into a vehicle's OBD-II. Flashcal+ isn't another device to make a quick change and toss back on the shelf. Our engineers have provided the exceptionally fast Quick Options Superchips devices are known for and acts as a live interface to your Jeep's electronics for constant access to control and view data. Flashcal+ for Wrangler JL also contains a huge amount of control on the vehicle's subsystems through its body control module (BCM) to enable existing circuits and add or delete features like a backup camera or blind spot detection. It can also disable functions such as your electronic steering pump to convert to hydraulic or the electric lockers to convert to aftermarket manual units when building a trail-ready rig. There are also numerous options for changing your vehicle's lighting settings like Daytime Running Light location, enabling or disabling halo lights, keeping your fog lights on with your DRLs, and much more! NOTES: -3.0 EcoDiesel and right-hand drive model Jeeps are not currently supported -Most adjustments FC+ applies to your Jeep do not require the dongle TO be left plugged in to remain as selected by user -Auto Start/Stop disable requires the dongle be left connected to keep system off between key cycles, but app can be closed -Settings entered in CRAWL only remain as entered with dongle plugged in and FC+ App running. -More information and installers for FC+ app on Android and iOS can also be found at Flashcal+ Product Page: https://superchips.com/flashcal_plus/
Features:
CRAWL Screen (illustration above) acts as a live and on-the-fly interface: Front and Rear Differential Lock, TPMS Adjust, Engine RPM idle up (CRAWL features vary by year and trim level of vehicle)
Tire Size Wizard - Self-calibrates speedometer with your phone's GPS. No need to enter data manually, and you don't even have to get out of your Jeep. (You can still enter tire size by height the old-fashioned if you want.)
Live Data Monitoring with customizable gauge display, as well as reading and clearing trouble codes (CELs)
Service Options menu for home repairs: ABS Initialization, Brake Pedal Relearn, Cam/Crank Sync 
Reset modules option for ABS (anti-lock brakes), BCM (body control module), TPMS (tire pressure monitoring), and IPC (instrument panel cluster) modules
Bluetooth connection from wireless dongle to Android or iPhone, and no wires to run
Engine idle up for winching, temporarily with CRAWL Screen, 500-2000 RPM
Sway Bar Disconnect in 2Hi, up to 25 MPH (CRAWL Screen, Rubicon only)
Line Lock- holds brakes on front tires only
Rock Lock- holds all 4 wheels with brakes for crawling
Axle Gear Calibration: 2.73 – 5.38:1
Tire Size Calibration by height: 26" – 40"
Transfer Case Gear ratio calibration: 2.72 – 5.00:1
TPMS Warning Threshold adjust: 22–56 psi.
TPMS Disable, for aftermarket wheels and no sensors
TPMS Off/On (Crawl Screen)
Daytime Running Lights Operation: Always On, Selectable, or No DRL
DRL Location Selector: Fog, Fender, Running, High, Low, Turn, or No DRL
DRL Dropout Disable, keeps DRL on when using turn signal
Fog Lights Dropout Disable, for simultaneous use of high beams and fog lights
Halo Lights Enable or Disable
One Touch Lane Change Enable
Dashboard boot up Splash Screen selection: Rubicon, Sahara, Sport
Seat Belt Minder Disable, stops chime
Disable or Enable Travel Link Weather Warning 
Lighting Config, allow optional installation of Standard or LED bulbs: Front Turn, Tail Lights, 3rd Brake Light
Auto Start/Stop Disable- turns it off and keeps it off as long as the OBD-II dongle is left plugged in, even after shutting off and restarting vehicle
Auxiliary Switches Enable, to add extra factory Aux switches* and control added electrical accessories
Blind Spot Detection Disable, or Enable to add if not equipped*
Factory Fog Light Switch Enable, adds controls if not equipped*
Towing Package Enable, adds controls if not originally equipped*
Backup Camera Disable, or Enable adds if not originally equipped (2018-2020 JL Only) *
Cargo Camera Disable or Enable adds if not originally equipped (2018-2020 JL Only) *
Electronic Steering Pump Disable, for conversion to hydraulic system*
Axle Lockers Disable Rear Only, OR Front and Rear for conversion to manual*
Axle Lock Rear OR Front and Rear w/ T-case in 4-Hi & 4-Low (CRAWL Screen, Rubicon Only)
*Our devices reconfigure vehicle controls for this associated change, but additional OEM or aftermarket parts are required to complete the conversion.