Teraflex 11-02-33-400-200 Falcon SP2 3.3 Fast Adjust Piggyback Shocks for 18-21 Jeep Wrangler JL Unlimited with 2-4.5" Lift 11-02-33-400-200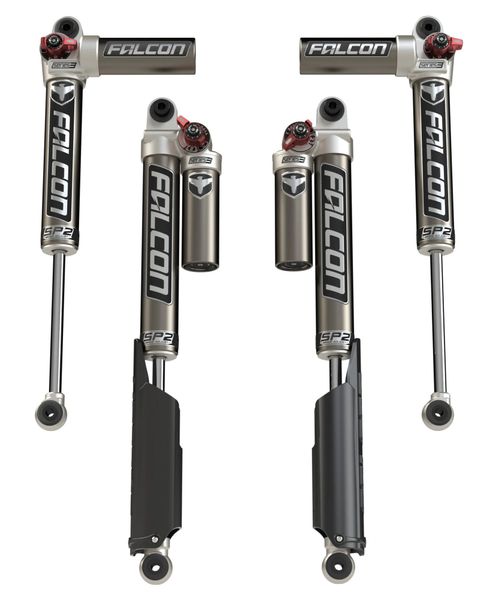 Teraflex 11-02-33-400-200 Falcon SP2 3.3 Fast Adjust Piggyback Shocks for 18-21 Jeep Wrangler JL Unlimited with 2-4.5" Lift 11-02-33-400-200
Teraflex Falcon SP2 3.3 Fast Adjust Piggyback Shocks offer the most versatility over any terrain in your Jeep Wrangler JL. You can quickly adjust between soft, medium and firm for better control when you are ready to go off-roading and switch it right back for the drive home. A second Micro Position knob gives you eight positions of further control within the main compression adjustment. These corner specific shocks feature offset eyelets for the front axle side to account for geometry change and clearance for the shaft to avoid damage. Rear roost guards also prevent damage by keeping rocks and debris from making contact with the shaft but still allowing water to drain out quickly. All SP2 shocks offer a Mode Adjust that lets you rotate the fully extended shaft clockwise for performance mode or counterclockwise for a soft mode when installing.
Piggyback Shocks: The additional reservoir of the Falcon Series 3.3 Fast Adjust Piggyback Shocks increases the shocks gas and oil capacity. This allows the shocks to stay cool, even under harsh conditions. Heat buildup causes fade and diminishing shock performance.
Rear Roost Guards: Included roost guards protect the rear shocks from rock chips and off-road hazards.
Adjustable: Using Falcon's fast adjust knobs you can select from three different compression settings. For finer damping adjustments, there is an eight-position dial. This allows you to tune your shocks to your specific environment or driving style.
Shock Oil: For increased thermal stability, Teraflex uses full synthetic Red Line shock oil. This oil contains anti-wear and lubricity additives and has a high viscosity index of 519.
Rust Proof Hardware: All hardware withstands a 1,000-hour salt spray corrosion test.
SP2 Mode Adjust: Choose between two settings during install by simply twisting the shaft counterclockwise for Soft and clockwise for Performance.