Vertically Driven Products Hi Fidelity 6 Speaker Overhead Soundbar for 87-02 Jeep Wrangler YJ & TJ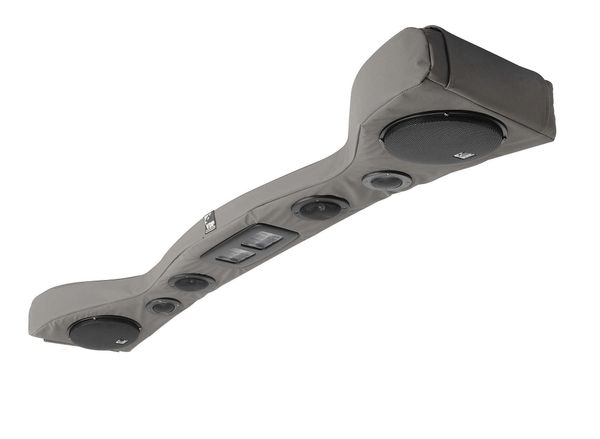 Vertically Driven Products Hi Fidelity 6 Speaker Overhead Soundbar for 87-02 Jeep Wrangler YJ & TJ
Vertically Driven Products
Hi Fidelity 6 Speaker Overhead Soundbar 
for 87-02 Jeep Wrangler YJ & TJ
Enjoy the best in music quality with a VDP six speaker sound bar. Powerful 200-watt peak power speaker system delivers crisp, pure sound right where you want it. The six pre-wired speaker combination features a 40-22,000 Hz frequency response. Superior mid-bass response with the two 6" woofers and a pair of 2" mid-range speakers plays frequencies above bass and below treble to provide quality sounds. A pair of 1" hi-range tweeter speakers completes the sound experience. Includes integrated interior dome light.
VDP Hi Fidelity Ultimate 6-Speaker Overhead Soundbar in Gray Fabric for 87-02 Jeep Wrangler YJ & TJ
Six speaker - upholstered in factory matching colors. Constructed of high impact plastic, covered in weather resistant fabric. Includes a 2-channel, 3-way, 200-watt maximum speaker system with: (2) 6" woofers, (2) 2" mid-range, and (2) 1" tweeters for the ultimate in crystal clear sound reproduction.
Application: 87-02 Jeep® YJ & TJ Wrangler
Includes all mounting hardware, instructions and wiring. Easy to install.
Available in water-proof, lightweight Textured Black molded plastic enclosure or upholstered in your choice of Gray, Black, or Spice water-resistant fabrics.
Mounts to your roll bar. Some drilling required for '03-'06 Jeep Wranglers & Unlimited models.
PARTS INCLUDED
Upholstered Sound bar w/(2) 6" Woofers(2) 2" Mid-Range(2) 1" Tweeters
Mounting Hardware
Instructions
Wiring
WARRANTY
One Year Warranty