Momento Duel Dash Cam M6 md-6200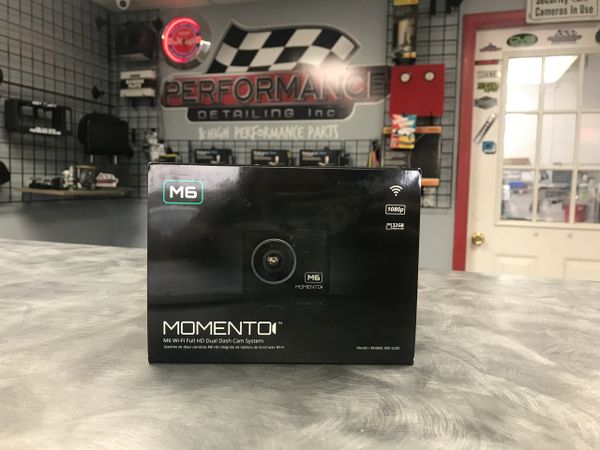 Momento Duel Dash Cam M6 md-6200




Description
With this Momento M6 Full HD Smart Dash Cam bundle, you will be able record all the action. Perfect for Offroad enthusiasts as well!
The kit includes both front and rear HD cameras, a GPS antenna to record location, and a 32GB Micro-SD card for multimedia file storage. Wi-Fi enabled Full HD dash camera system. Dimensions: 89 x 43 x 29mm.
M6 MD-FC6200 Front Camera
M6 MD-RC6200 Rear Camera
32GB Micro SD card
GPS antenna
Hardwire Installation Kit
Suction Mount
Tape Mount
Compatibility Universal
Recording Resolution: 1080p
Expandable Memory Compatibility
Viewing Angle: 270°
Sensors: Sony Exmor R
Languages: English & French
Recording Modes: Continuous, Incident, Parking, & Manual
Frame Rate 30 frames per second (Front & Rear)
LED/Anti-Theft
Can view software from the Smartphone App
89 x 43 x 29mm
Weight: 75g
Power Consumption of up to 350mA during recording
An Extra Set of Eyes On the Road
You're a safe, responsible driver, but accidents happen: Luckily, Momento's got you covered:
Driving Mode - Continuously records everything at the front and rear of your vehicle while driving.
Impact Sensors - Stores 15 seconds before and after any impact or shock your vehicle experiences
Parking Mode - Even when you're parked, the M6 has motion sensors that trigger recordings.
Exceptional Low-light Sensitivity
The M6 records in Full HD, giving you crystal clear footage in 1080p. Additionally, the M6 is equipped with a Sony Exmor-R image sensor that is enhanced with STARVIS, the industry-standard for surveillance applications, ensuring low-light performance.
The Momento App
The M6 features a free smartphone app for iPhones and Androids. The Momento app serves as the hub for viewing and editing video files, as well as configuring your M6 dash cam.
Review & Edit Footage on Your Smartphone.
With the new Momento app you can immediately access your footage directly on your smartphone. Make quick edits to trim the excess and keep only the best parts.
Easy-to-use Interface
The Momento app gives you immediate access to all of your dash cam video right on your smartphone. We've also given you complete control over your M6 dash cam's settings – adjust shock sensitivity, video resolution, audio recordings, battery-save thresholds and so much more!
Driving Data & Travel Log
The M6 includes an external GPS/speed antenna which records the location and speed of your vehicle in real-time, pairing this data with your video footage within the Momento app.
It also logs every trip you take and reports things like mileage and trip time, as well as any impact events that might have occurred on the road.
Share Footage Instantly.
Witness or experience something crazy on the road? The Momento app allows you to share directly to social media. Share your footage with the world – or even just friends & family.