Putco Element Sky View Clear Freedom Panels Jeep Wrangler & Gladiator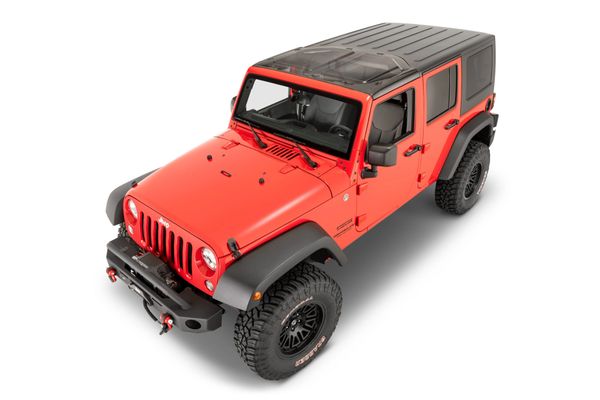 Putco Element Sky View Clear Freedom Panels Jeep Wrangler & Gladiator
Putco Element Sky View for Jeep Wrangler/Gladiator
Durable Panel Replacement: Easily remove your factory Freedom panels and replace them with this pre-assembled, direct-fit, premium polycarbonate roof top.
Rugged Engineering: Precision manufactured with I35 dark gray tinted Makrolon Tuffak polycarbonate for amazing durability, and completely UV protected.
Noise/Weather Deadening: Material engineered to minimize road, wind noise, and water intrusion, and insulation helps keep temperatures comfortable for each season.
Weather-Resistant Seal: Pre-attached foam and clamps protects your vehicle and ensures a compressed tight fitment.
Includes Free Storage Bag
Putco's Element Sky View for Jeep Wrangler JK allows for the simple removal of factory hardtop Freedom panels and adds a new, clear, protective sky view. The Element Sky View is manufactured to fit OE specifications and does not require any drilling or other modifications. Panel precision is manufactured with dark gray tinted polycarbonate for enhanced durability and UV protection to guard against fading. Features pre-attached foam and clamps to protect exterior paint from scratching while ensuring a compressed, tight fit. The panel is additionally insulated to reduce road and wind noise which helps keep the vehicle's cabin temperature appropriate for each season. Includes special storage bag for easy storage when removed. Three-year limited warranty. Manufactured in the USA.
INSTALLATION NOTES
Installation Difficulty:
Level 2
Intermediate
Installation Time:
1-2 hours
PARTS INCLUDED
Element Sky View
Qty (6) Stainless Hand Bolts